Press Releases 2016
UPCOMING EVENTS AND ACTIVITIES
"WOMEN & WAR" - 4/9 & 4/10/16
DESIGNER HANDBAG BINGO EVENT -4/15/16

- SOLD OUT!!
MUSICAL IQ EVENT - 5/22/16
Info coming soon...
SUMMER GAZEBO CONCERTS - June 2016
Info coming soon...
JEFFERSON TOWNSHIP DAY -30TH ANNIVERSARY - 7/9/16
Register for the Cornhole Tournament on July 9th
Register for the Irish Road Bowling Tournament on July 9th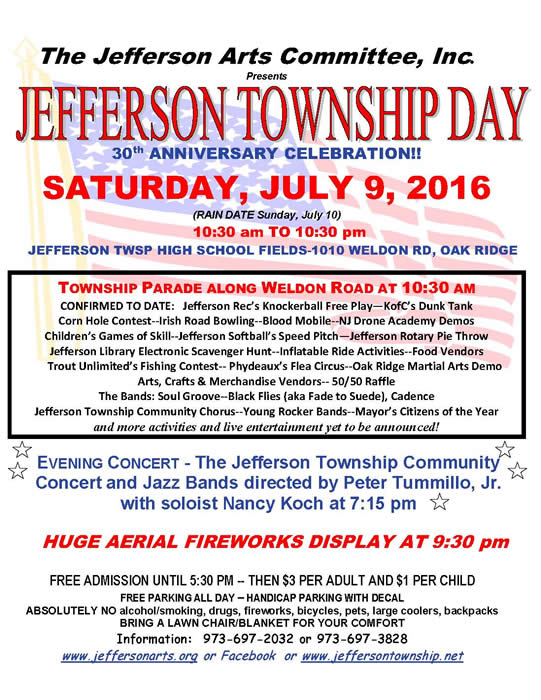 Flyer posted as of 5/19/16
PAST EVENTS
LINE DANCE EVENT - 2/27/16
Line Dance with the Jefferson Arts Committee!
CHRISTMAS IN THE VILLAGE - December 5, 2015
Christmas in the Village Schedule of Events 2015 4-page event brochure(updated 11/27/15)
Entertainment abounds at MUMC during Christmas in the Village
No Strings A'Cappella to perform at CIV
Young Pianist to perform at CIV
St.Gabriel's Episcopal is part of Christmas in the Village in December
"Our Ancestors' Christmas Traditions" is Museum Theme for CIV
Do your Holiday Shopping at The Village Marketplace on Dec 5th
Milton First Aid Squad hosts Breakfast in the Village
Jefferson Township Concert Band Concert in the Village
Jefferson Community Players perform radio shows in the Village
Jefferson Township Community Chorus Holiday Concert in the Village
Piano Man Henry "Hank" Shapiro to perform at Christmas in the Village
December Holiday events throughout Jefferson Township
Vendors wanted (sold out)
BUS TRIPS
Peddlers' Village, Bucks County, PA - November 7, 2015
FREE Summer Gazebo Concerts
Hope you enjoyed the delightful music at the 2015 Jefferson Arts Committee's FREE Summer Gazebo Concert Series - there was some great entertainment on some beautiful summer nights. Any suggestions welcome at artscommittee@jeffersonarts.org
Friday, June 26, 2015 - The Jefferson Township Community and Jazz Bands
Friday, July 17, 2015 - the James Dean Orchestra
Friday, July 24, 2015 - Tequila Rose
Friday, July 31, 2015 - Shore Soundz
Friday, August 7, 2015 - Jersey Sound
Friday, August 14, 2015 - Soul Groove
Friday, August 21, 2015 - Carnaby Street
Friday, August 29, 2015 - Dr. Brian and Friends
JULY 11, 2015 - JEFFERSON TOWNSHIP DAY XXIX
Sponsors Make Jefferson Township Day Happen!
Jefferson Township Day Evening Concert Features Reminisce
Vendors sought for Jefferson Township Day
Irish Road Bowlers Sought for Competition
Jefferson Township Day Will Rock!
New Jersey Hall of Fame Mobile Museum Coming to Jefferson Township
The Township Parade Returns to Jefferson Township Day!
Visit Karen's Petting Zoo on July 11th
It's an Old Fashioned Corn Hole Contest
Children Inivted to Participate in Games of Skill
Enjoy Inflatable Ride Activities
How Many Hot Dogs Can You Eat in 5 Minutes?
Be Amazed at Chris Clark's BMX Stunt Bicycle Demonstrations
Have You Seen Phydeaux's Flea Circus?
Guitar Bob Performs for Children of All Ages
Have Some Fun with the Acoustic Eels Band
Rave On! Will Bring Back Memories of Buddy Holly and Ray Orbison
Cadence Makes Its Jefferson Township Day Main Stage Debut
The Jefferson Township Community Chorus Will Sing in Concert
The Jefferson Township Community Concert Band and Jazz Band Plan to Entertain You
Jefferson Mayor Will Announce his 2015 Citizens of the Year
Take a Chance at the 50/50 Raffle
Be Amazed at the Huge Aerial Fireworks Display on Jefferson Township Day
Lots of entertainment scheduled for Jefferson Township Day
Jefferson Township Day Parking Options
May 2015
Jefferson Arts Committee Seeks a New Choral Director
APRIL 26, 2015
SWING, SWING, SWING!!! The 3rd Annual Seniors' Big Band Dinner Dance returns
December 6, 2014
Christmas in the Village
Jefferson Township Community Band Holiday Concert - Frozen
Jefferson Township Community Chorus Holiday Concert Flyer
Christmas in the Village Concert Program Ad Form
Jefferson Community Player's Holiday Theater and Jefferson Community Player's Holiday Theater Flyer
____________________________________________________________________________________________
DIRECTIONS TO THE JEFFERSON TOWNSHIP GAZEBO
July 18, 2014
Gazebo Concert - Thunder Hill
July 25, 2014
Gazebo Concert - Reminisce
August 1, 2014
Gazebo Concert - Nicole Donatone
August 8, 2014
Gazebo Concert - Tri-State Rockers
August 15, 2014
Gazebo Concert - Rave On
August 22, 2014
Gazebo Concert - The 3M Band
August 29, 2014
Gazebo Concert - Dr. Brian and Friends
July 12, 2014 - Jefferson Township Day
June 27, 2014
Gazebo Concert - The Jefferson Township Community Band & Jazz Band
June 14, 2014
Bus Trip to Grounds for Sculpture
February 2, 2014
Adult Acting Workshop Session
January 26, 27, February 2, 3
Open Casting Call for Jefferson Community Players' 2014 theatrical season